Click Here to view the M.Sc Digital Society Admissions Page
The International Institute of Information Technology Bangalore (IIIT Bangalore) invites you to be a part of an interdisciplinary Master's Program in Digital Society. The two-year program is a blend of topics drawn from information technology and social sciences. It trains new-age professionals to design, deploy and develop digital technologies for diverse populations across domains like governance, healthcare, education, infrastructures, media to name a few.
Learning Outcomes
In our efforts to create an equitable and inclusive digital society, our graduates will be able to,
Identify the needs of the diverse users of ICT in different social and industrial contexts
Understand technological possibilities and their potential to solve the problems
Design solutions for the optimal adoption by heterogeneous user segments
Examine digital technology and the complex ways in which it shapes society, social institutions, and culture
Visualize macro-level needs and design scalable technology to cater to large user segments in different contexts
Analyze intricate relationships and practical choices at the intersection of technical design, policy  frameworks, and ethics
 
Who is this Programme For?
If you believe in building a career in technology that impacts society, this program is tailor-made just for you.
Preparatory Term (2 weeks):
This two-week orientation will consist of a series of sessions, including lectures, readings, and audio-visual media to expose students to the foundational logic of the programme and its interdisciplinary underpinnings.
Technical Foundations (to cover programming and database fundamentals)
Social Science Foundations (to cover some fundamental ideas in social science, reading comprehension and writing practice)

Semester 1 (18 credits, 5 core courses)
Digital components of a connected society (4 credits)
Application development for a connected society, OR, Enterprise software development (2 credits)
Qualitative research methods (4 credits)
Quantitative data analysis for public policy (4 credits)
Technology and society (4 credits)

Semester 2 (16 credits, 4 core courses)
Technology in development (4 credits)
ICT Policy and regulation (4 credits)
Social complexity and systems thinking (4 credits)
Human computer interaction (4 credits)
Elective 1 (Optional)
Some electives offered in this term include:
Digital sociology
Techno-economics of networks
Dynamics of the Information Technology industry
News literacies in a digital society
Semester 3 (16 credits, 4 electives)
Some electives offered as part of the programme are:
Advanced qualitative research methods
Cyberspace, globalization and location
Digital platforms: Technology and business components
Technology Ethics and Artificial Intelligence
Geographical Information Systems (GIS)
An Introduction to Accessibility in the Global South
Privacy in the digital age
Social media communication
Advanced Topics in Human Computer Interaction
The Web and the mind
Software Product Management

Semester 4 (16 credits Thesis/Internship)
In the final term, students will be required to either: (a) work on a Master's thesis to hone their research skills; OR (b) undertake an internship to further sharpen their professional skills by applying the learnings from courses undertaken during the previous terms – this could involve working on a project within their parent organizations
Specialisations Offered:
Human-centred digital design
Data intensive digital design
Research and policy studies
​All core courses are required for all three specialisation tracks. Electives required are as follows: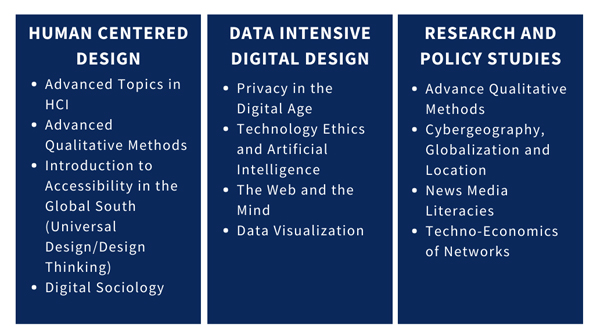 The tuition fee is Rs. 1,92,000/- per semester. For information on scholarships click here.

 
Fees for International Students: 
 
International students to be admitted in the academic year 2023-24 will have to pay a tuition fee of US$ 10,000 per year (at the rate of US$ 5,000 per semester). The tuition fee is periodically revised and such revisions are announced before the start of every academic year.
In addition, admitted students who stay on campus in the student hostels, pay approximately US$ 1,200 per year towards hostel charges and approximately US$ 1,000 per year for food. The Institute reserves the right to change these rates periodically. A medical insurance premium (with coverage applicable only during stay in India) at actuals (approximately, US$ 25 per year) will also be payable.
Our Alumni have gone on to make a mark as
User/ UX Researcher/UX Designer
Product Manager
Data Analyst
Policy Researcher
PhD Scholar
with the following organizations/institutions.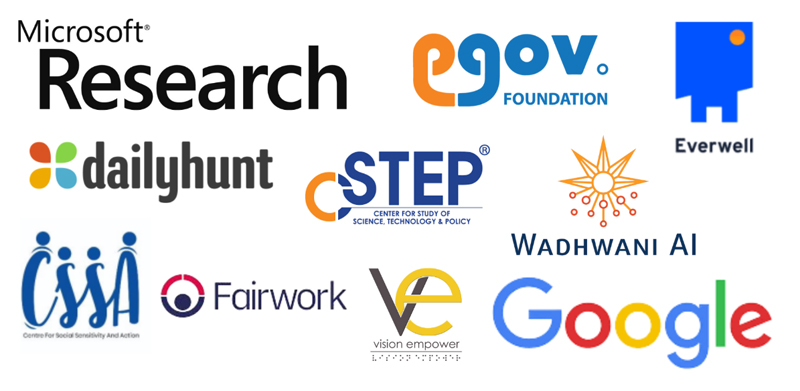 Amit Prakash Associate Professor
FPM (Indian Institute of Management Bangalore)
Research areas: ICT and Development (ICTD), e-Governance, Public Policy, Information Systems, Accessibility.
Courses Taught:
DT 313: Technology Ethics and Artificial Intelligence (with Prof. Bidisha Chaudhuri)
DT 308: Quantitative Data Analysis for Public Policy (with Prof. V. Sridhar)
DT 204: Social Complexity and Systems Thinking
DT 314: An Introduction to Accessibility in the Global South
 
Balaji Parthasarathy Professor
Ph.D. (University of California, Berkeley)
Research areas:Globalization, Late Industrialization and Regional Economic Development; Technological Change and Innovation Policy; Information and Communication Technologies for Development; The State, Firms, and State-society relationships; Urbanism and Urbanization
Courses Taught:
DT  211: Dynamics of the Information Technology Industry
DT 385: Cybergeography, Globalization and Location
HSS 108: The City: A Crucible of Innovation
 
Bidisha Chaudhuri Associate Professor
Ph.D. (Universität Heidelberg)
Research areas:Digital Governance and Infrastructure, Critical Data Studies,Technology and Work, Science and Technology Studies, ICTs for Development (ICTD)
Courses Taught:
DT 104/HSS 104A: Technology and Society
DT 215/HSS 106: Digital Sociology
DT 313: Technology Ethics and Artificial Intelligence (with Amit Prakash)
HSS 109: A History of Ideas
 
Chandrashekar Ramanathan Professor
Ph.D. (Mississippi State University)
Research areas: Data Sciences , Software Architecture and Technology for , Software Engineering , Enterprise Content Management and Knowledge, Semi-structured Databases
Courses Taught:

Janaki Srinivasan Associate Professor
Ph.D. (University of California Berkeley)
Research areas:Political economy of information-based development, privacy, critical social theory, algorithmic management of work, politics of work automation, situated learning at work, development theory, financial inclusion, ICTD, politics of identity systems
Courses Taught:
DT 306: Privacy in the Digital Age (with T K Srikanth and V Sridhar)
DT 303: Advance Qualitative Research Methods
DT 205: Technology in Development (Earlier called The Digital and its Discontents)

Jaya Sreevalsan Nair Associate Professor
Ph.D. (University of California Davis)
Research areas: Spatial big data analytics (multivariate/tensor/network data modeling and visual analytics) with a focus on applications in earth observations (LiDAR point clouds, ocean data), geographical networks (e.g. transport), biological networks (genomic, brain) and survey data pertaining to population health and public health.
Courses Taught:
DT107: Application Development for a Connected Society
CS855: Data Visualization

Preeti Mudliar Assistant Professor
Ph.D. (University of Texas at Austin)
Research areas:Human Computer Interaction (HCI), ICT and Development (ICTD), gender, infrastructures, biometric systems, platform economies, and news processes.
Courses Taught:
DT 113: Qualitative Research Methods
DT 108: Human Computer Interaction
DT 312: Advanced Human Computer Interaction
DT 216/HSS 107: News Media Literacies

Srinath Srinivasa Professor
 Ph.D. (Brandenburg Technical University Cottbus)
Research areas: Web Science, Text mining, Network analysis, Multi-agent systems
Courses Taught:
DT 307: The Web and the Mind

T K Srikanth Professor 
Ph.D. (Cornell University)
Research areas: Mobile and cloud applications, Geometric modeling and graphics, 3D printing, Distributed computing, eHealth, Data privacy

Courses Taught: 
DT 306: Privacy in the Digital Age 
DT 102: Digital Components of a Connected Society

V. Sridhar Professor 
Ph.D. (University of Iowa)
Research areas: Techno-economic growth modeling of telecommunication networks and services; Radio spectrum allocation, management and policy; Telecommunications, Internet and Privacy policy issues in developing countries; Agent-Based Modeling of techno-economic systems; Techno-economics of digital economy and platforms; Management of Distributed Software Projects
Courses Taught:
DT 306: Privacy in Digital Age (with Janaki Srinivasan and T K Srikanth)
DT308:Quantitative Data Analysis for Public Policy
DT212/ DS/NC 615: Techno-Economics of Networks
DT203: ICT Policy and Regulation
HSS101: Economics