The principal objective of IKS research Lab at IIITB is to investigate; conduct critical studies; highlight the strength of IKS; exploit its fullest potential; showcasing its significance for sustainable environment, love for nature, holistic ways of living, health conscious that ultimately leads to quality life for everyone in the plane.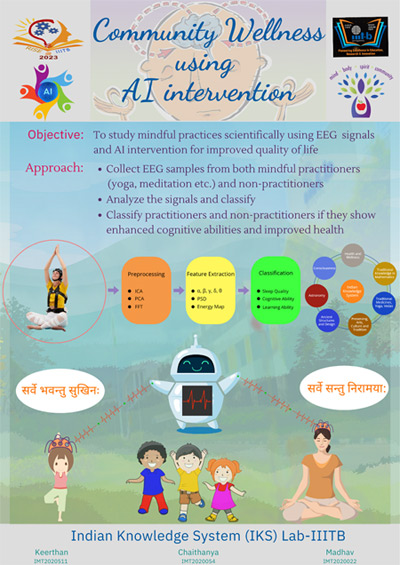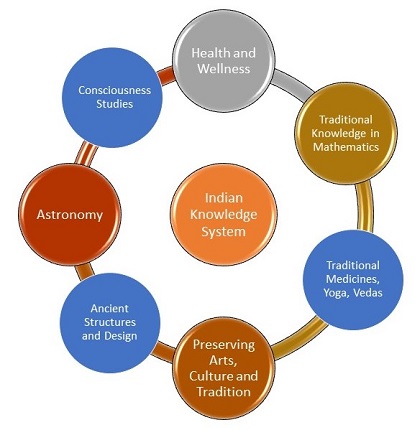 Background and Relevance
Indian Knowledge System (IKS) suggests a number of thematic areas of IKS, where lot of research and studies are needed. This includes study of health and wellbeing, and consciousness; art and culture; mathematics and astronomy etc. Community wellness and quality of life are very important for any individual, especially in rapidly changing and technology driven society and world. Current literature suggests work on using AI for healthcare applications. The focus of the work has not been exploiting the IKS domains, Yoga, consciousness and mindfulness practices and thus the proposed work to be carried out in the IKS Lab has relevance in context of National Education Policy of Govt. of India (NEP2020) as well as IKS for holistic development of students and improved wellness of community.
Under Ministry of Education, Government of India has established IKS division with a vision to promote interdisciplinary and transdisciplinary research on all aspects of IKS, and disseminate IKS knowledge for further innovations and societal applications. The IKS division promotes research and critical studies in various IKS domains aiming at original, serious, and deep scholarly research in IKS and rejuvenate IKS research in India. IKS division includes traditional knowledge in mathematics and astronomy; chemical and material science; health, wellness, and consciousness studies; political and economic thoughts; arts, traditions, and rich culture etc.
Contribution to the IKS Mission of India
National Education Policy 2020 (NEP2020) emphasizes much on Indian Knowledge System (IKS) for holistic development of students. The traditional knowledge of medicine, mindfulness practices (Vipassana), heritage etc. has to be provided to the students so that understanding the importance of IKS fields for excellent wellbeing is developed, in addition to all around professional development. So, this AI intervention-based study aims at fulling the most important expectation envisaged in NEP2020.
People Working in IKS Lab
Prof. Srinath Srinivasa
Prof. G. R. Sinha
Research Project supported by Mphasis
Title: Artificial Intelligence (AI) Intervention based Scientific Study of Yoga and Consciousness for Community Wellness and Augmented Quality of Life
Overview of Research Project
Due to fast changing lifestyle and imbalanced workload, a considerable percentage of the population suffers with mental problems such as stress, brain related disability, improper sleep etc. which affects their quality of life, that subsequently affects the productivity in both personal and professional life. Lot of research and studies are ongoing across the world in the area of AI intervention for augmented community well-being but very limited research has been carried out on AI-based study of impact of Yoga and other Consciousness practices. This work proposes AI intervention and use of Machine Learning approaches for understanding the impact of Yoga and related consciousness practices in improvement of quality of life, community wellness. The biomedical and neurological attributes of persons shall be studied and classified under various mental conditions through different stages of Yoga.
Mission Statements of Project Work
To study impact of Yoga on mental wellbeing, consciousness and sleep quality
To safeguard or improve community wellbeing through Artificial Intelligence intervention
To study Cognitive ability and impact of Yoga and Mindfulness practices
Broad Impact and Outcomes of the Research Project
Improved awareness towards traditional knowledge of health, wellness and mindfulness practices
Acceptance of Yoga and Consciousness Practices due to Scientific Evidence
Augmented Community Wellness and Improved Quality of Life
Team and Expertise
The steering team consists of the following:
G. R. Sinha, Adjunct Professor as Principal Investigator (PI): Has been working in the areas of Biomedical Signal Processing and its applications in Cognitive Science Research which includes study of mental well-being, stress, emotion, brain disability etc.
Srinath Srinivasa, Professor & Dean (R&D) as Co-PI: Has been closely working in the area of Cognitive Computing, Impact of the web on Humanity and Social Empowerment. Has published a very interesting and relevant work on theory of being from traditional Indian perspective.